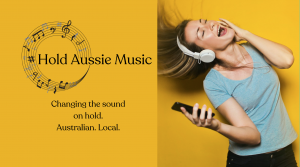 (Sydney, Australia, October 29, 2021) November marks Australian Music Month and momentum is gathering to encourage organisations to play and pay for Australian music on their call-waiting systems, instead of using mind-numbing, royalty-free tunes. 
Between November 1 and 30, Hold Aussie Music is targeting 30 Australian businesses to commit to playing Aussie music for their customers while they wait patiently on-hold. Banks, retailers, government agencies, publishers, insurance firms, airlines, electricity and telecommunications companies feature strongly on the list. 
With November providing the perfect opportunity to celebrate all things Australian music, including the ARIA Awards, businesses are urged to commit to changing their on-hold tunes year-round in support of an industry decimated by COVID-19. 
The idea for Hold Aussie Music came to media professional Karen Eck when she was left on hold for 7 hours and 19 minutes on a call with an airline listening to the same infuriating, 15-second tune on endless repeat. 
It got her thinking: What if they used songs that were the best of Australia's emerging and established artists instead? We could save customers' sanity and support the music industry at the same time. 
She was encouraged by friends and industry colleagues to start a Change.org petition, which continues to garner enthusiastic support around the country with close to 10,000 signatures. 
"Hold Aussie Music is an opportunity for any business to create a positive and engaging customer experience. It is an extension of their brand," said Karen Eck.
"By having their music curated to an all-Aussie playlist, big business and all levels of government are contributing to the livelihoods of local music creators through their OneMusic Australia licence fees," Eck added. 
"There are specialist services that report playlist data to OneMusic every three months and these particular licence fees are split up finitely, track by track, creator by creator. Customers get a better experience, and with live performances slowly opening up, they may choose to go out and see a band they discovered while waiting on the phone. It's a positive full-circle experience for everyone involved."
Hold Aussie Music supporters are nominating businesses to change their tunes on hold. 
They want to hear different music that is engaging, entertaining and supportive of the nation's music industry. 
People can continue to nominate organisations by commenting on the Hold Aussie Music Facebook page, plus tagging #HoldAussieMusic and the relevant business. 
A complete list is available on request. 
About Hold Aussie Music 
A simple idea to change the sound of on-call waiting systems around the nation. By choosing to play local music, businesses are supporting a music industry crippled during the COVID-19 pandemic. The initiative was created by Karen Eck, founder of eckfactor, a PR and publicity agency specialising in entertainment, business and media. 
The campaign began with a national petition (https://www.change.org/HoldAussieMusic) and has the support of national music licensing bodies APRA AMCOS and OneMusic Australia. Hold Aussie Music is an official partner of ARIA's broader campaign to have more Australian music played everywhere: Our Soundtrack, Our Stories. 
For further information and interviews, please contact: 
eckfactor 0438 532569 Karen@eckfactor.com 
https://www.facebook.com/HoldAussieMusic
linkedin.com/in/kareneck/ Insta @eckfactor