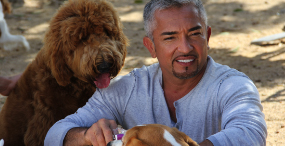 TV Touring – an Australian company that transforms TV shows into live stadium acts – brought the world's most famous dog whisperer, Cesar Millan, to Australia on a national tour in 2009.
eckfactor's role was to a publicity campaign turning awareness into ticket sales.
We arranged for Cesar to fly in ahead of his first show, creating an intense media schedule covering national and local TV, metropolitan print and more than 40 radio stations. The majority of print interviews resulted in full page spreads, cover opportunities and more. As each piece of coverage had to translate into ticket sales, each interview and article pointed to his tour dates, and his website. Among those covering Cesar Millan's visit were Sunrise, A Current Affair, The Daily Telegraph and the Sunday Tasmanian.
eckfactor's three-week multi-tiered campaign reached more than 14 million people, resulting in sell-out shows across the board.